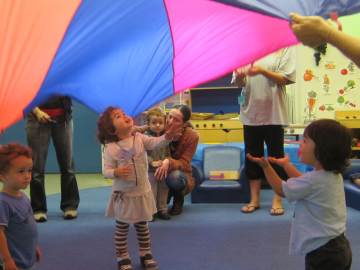 Mommy/Daddy and Me — parachute games
Mommy/Daddy and Me
Our "Mommy/Daddy and Me" class is a perfect introduction for young children to a preschool environment and to interacting with other young children, with mom or dad in view. Children who participate in this program feel much more at home when they start preschool, whether at Hogg's Hollow or another preschool.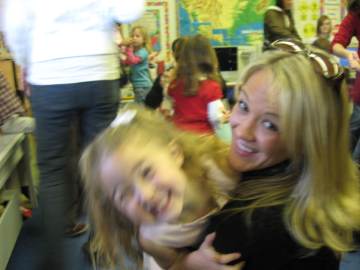 Preschool — Mom dancing with her daughter
Preschool
Our preschool program is an introduction to school so it is designed for young children to have fun and to be stimulated by new experiences. Teaching is a creative activity and our teachers are constantly creating an environment which is exciting for our preschool students while recognizing and encouraging their individual interests.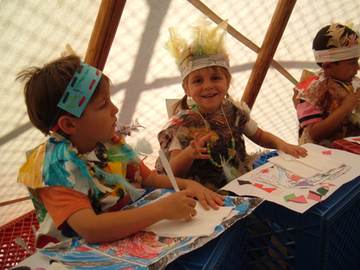 Transitional-K — creating art in our teepee
Transitional Kindergarten
We provide a meaningful, rich and "full of outdoor experiences" transitional kindergarten program, where children may still enjoy exploring the outside world first hand.
More than half of our day is spent outside interacting with peers, teachers and bugs during biking, hiking, water play, chalk art, story telling, meal times, dance, and painting.
The classroom time is reserved for activities that exercise the small motors skills: drawing, cooking, sewing, board games, block building, cutting and pasting and lots of musical experiences. Our transitional-k program is a hybrid between preschool and kindergarten.